June 28, 1969 – the day a world changed. Inspired by the Stonewall Riots in
Greenwich Village New York.
£1 per 70cl bottle sold is donated to Stonewall UK
Celebrity Endorsements for Stonewall Gin
Money raised through lockdown for LGBTQ+ charities (GBP)
What customers say about Stonewall Gin
Gay Magic Included lol
Tastes absolutely beautiful. I've tried a few rhubarb gins before, and this one is by way my favourite. Not even had a hangover from it yet either, so I suspect there's some gay-magic included. G
Beautiful gin - 5 Star
"Beautiful gin and a lovely bottle to pop your lights in too. Try it with your favourite mixer. You won't be disappointed. Definitely buying again."
Absolutely loved it
"Made the mistake of offering this to friends and relatives they absolutely loved it. So tasty works without garnish just ice and tonic!"
Definitely, worth the money
Gin arrived quickly and tastes fab! Definitely, worth the money – it looks great too 🙂
Thoroughly enjoyed it
"I knew the beautiful Pink Rhubarb bottle was one I needed to try! It is delicious! I have tried it with elderflower tonic, with ginger ale and with plain Indian tonic, and each time I have thoroughly enjoyed it."
Definitely be buying another bottle
"Absolutely gorgeous gin, the rhubarb really comes through and it doesn't disappoint! Will definitely be buying another bottle!"
Very impressed with the speed of the service
I recently received my Gin and have 3 observations to make: 1) incredibly delicious. 2) beautiful bottle that stands out from the rest. 3) love the fact that my purchase contributed towards a donation to Stonewall Charity – it means you get a little bit more for your money and feel like you have contributed. I was also very impressed with the speed of the service; it was such a smooth process from ordering to then receiving my Gin. A carefully packaged box of happiness. I would recommend to anyone.
Much needed support to a great charity.
Gin and I go hand in hand… stonewall gin is now taking pride of place with some of my gin treasures – really recommended gin that provides much needed support to a great charity.
28th June 1969 The Stonewall Inn bar, New York: 1:20 am. The music went off, the lights came on, 205 courageous people stood. This date marks the event where our struggle for acceptance would soar on the shoulders of an underground society.

Check Out the media
A recent Stonewall Gin review in the Yorkshire Times.
'So when approaching the London Original, I had firm ideas of what to expect. For me, most gins are unapproachable without a mixer. Not the case with Spirit of Stonewall.'
'Again a taste without a mixer was a revelation. The flavour is subtle and not too sweet, but leaves a lovely sensation as it goes down.
Coming Soon 'Glamorous Gin Liqueurs'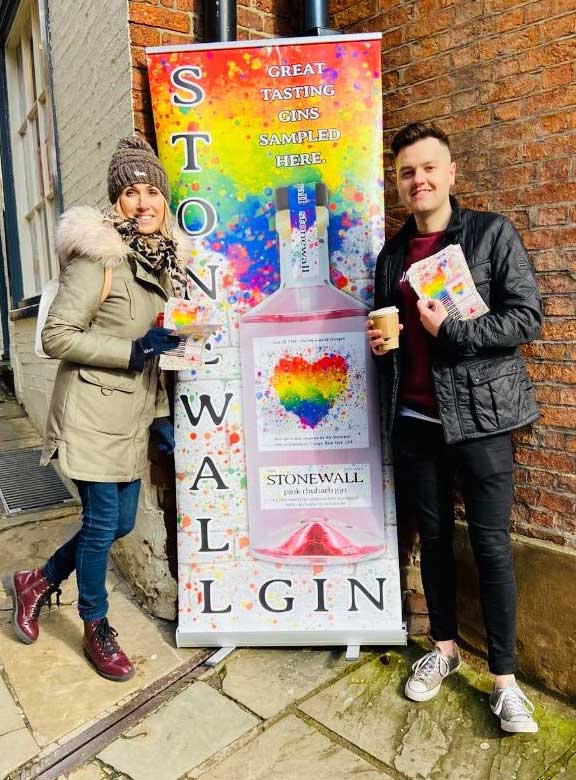 Rediscovering Stonewall
Joe – this is me
I am Joe and I helped create this product along with family members who produce spirits. I rediscovered the history of the 'Stonewall Riots' and wanted to help tell again the story, so recognising our predecessors for my freedoms today. The 'Stonewall Riots' is an amazing part of LGBTQ history and an example of pure bravery and courage of an underground society who fought for acceptance and the rights we have today. I want to say a huge thank you for everyone who has supported us, together we can tell this story and the important message that it delivers. 
I am thrilled we have the full support of Stonewall UK and the famous LGBT activist Tree Sequoia who was at the Stonewall Inn – New York on the night of the now famous 'Stonewall Riots'. It means a great deal for myself and us at Spirit Of Stonewall to have their support in us.
To do my bit for the cause. For every bottle sold, we will donate £1 to the Stonewall UK Charity to continue the ongoing worldwide struggle for acceptance.
These are great tasting gins that deliver an important message and supports a fantastic charity.
Joe xx
made with love
Great Tasting spirits
Our Stonewall Gins are made in Lincolnshire UK at a small batch craft distillery. They have been loving produced after many months of testing and retesting to get the fine flavours and uniquely smooth taste. The distillery uses the finest copper reflux stills to ensure the botanicals shine through and the liquid is crystal clear.
The recipe for the London dry gin includes juniper, cardamom, orange, liquorice, almonds and finally a local coastal berry called sea buckthorn which gives our gin fine citrus almost mango notes.
Once we had perfected the London dry gin this was used as a base for our tasty but not so sweet Pink Rhubarb gin by adding an authentic rhubarb flavour. 
Original Stonewall Barman
Good Luck wishes
A message from Tree Sequoria who was there on the night Gay pride started and is still a barman today at the Stonewall Inn New York.